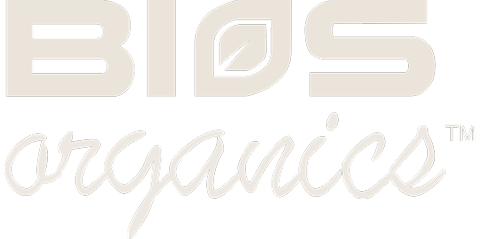 Introducing The Power Of CBD Skincare & Wellness
BIOS Organics™ is the first fully licensed, full spectrum and single sourced beauty and wellness brand, providing superlative results. BIOS Organics™ encapsulates all the best qualities demanded by discerning health and humanity consumers — vegan, organic, cruelty free, female founded, sustainable and giving embedded in every product.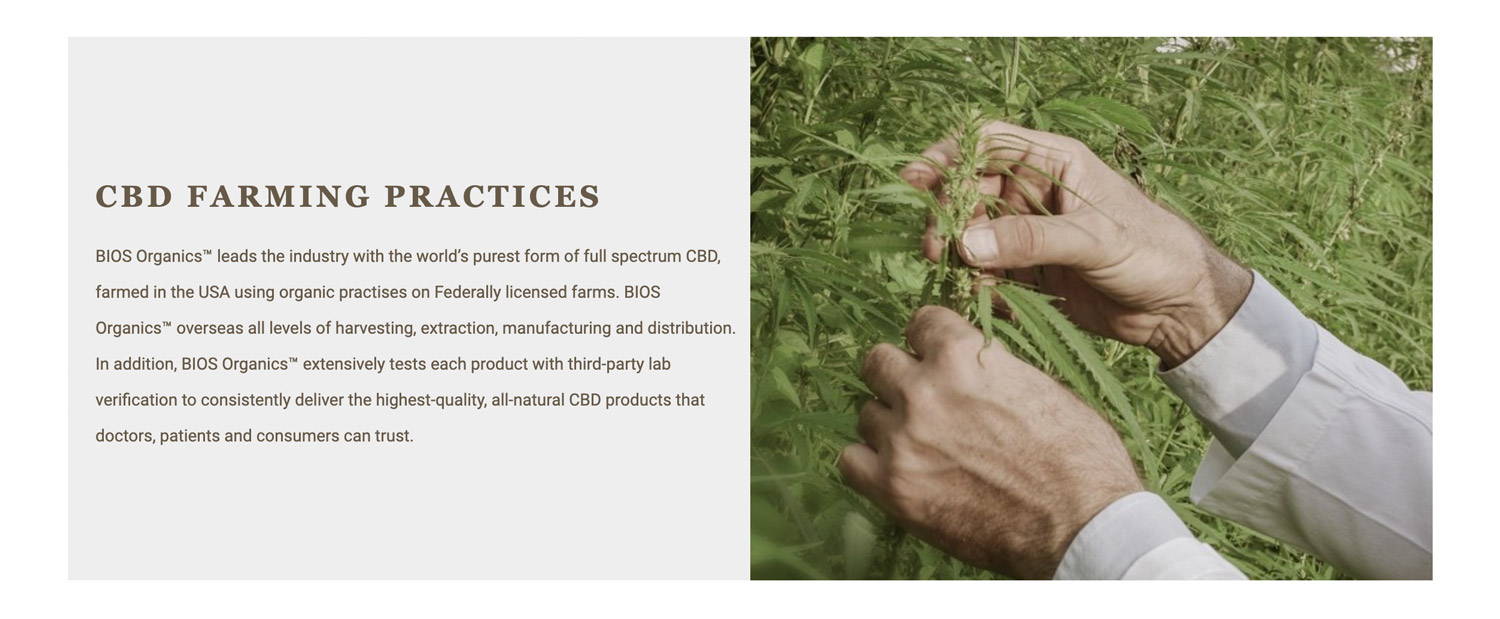 Our Products Are REALLY Natural (not just marketing words)
BIOS Organics™ is passionate about natural living. That's why they say 'NO' to using harmful ingredients in their products —taking pride in protecting people, animals + the environment & believing the best ingredients are found in nature. They're on a mission to educate people about the difference between synthetic & natural products. This very difference sets us apart.
BIOS Organics™ Zero Waste Solutions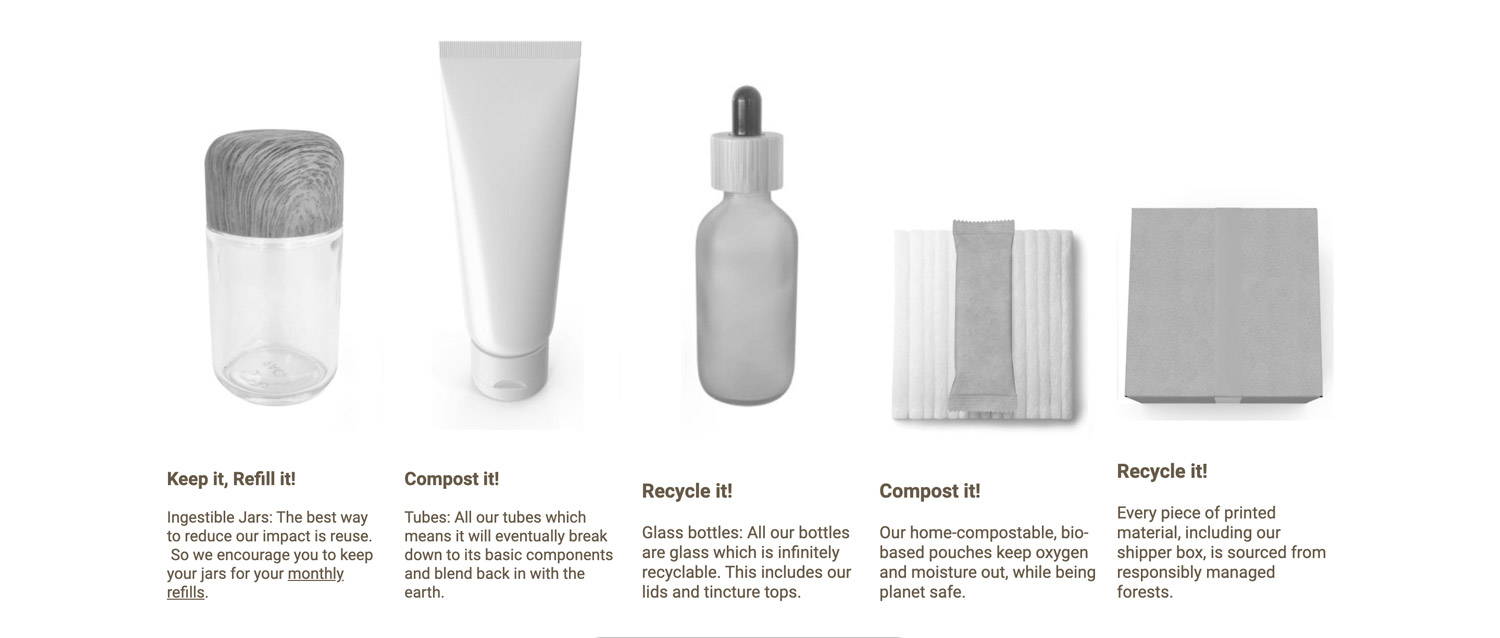 Exceeding The Industry's Ethical CBD Standards
BIOS Organics™ stand for clean and ethical CBD beauty. As part of this, they've set their own premium guidelines for quality and safety which exceeds industry standards: Ethical CBD Standards (ECBDS). Part of this commitment is our partnership with Environmental Working Group (EWG), the leading third-party ingredients safety certification for beauty and personal care goods.

You won't find any harsh ingredients like sulphates, mineral oils, or petrolatum in BIOS Organics™ products. Instead, we harness the power of full spectrum CBD, alongside the use of natural plant oils like MCT, macadamia, jojoba, and maracuja, as well as shea butter. CBD helps deeply revive and repair skin, whilst the other ingredients help moisturize and hydrate.

Animals shouldn't suffer for our beauty needs, which is why we don't use Beeswax, Lanolin, or Collagen in our products. Instead, we use plant-derived substitutes known for their thickening and softening qualities, including Carnauba Wax and Candelilla Wax.
No Artificial Coloring Agents
We don't believe in using any artificial coloring agents in our ranges, and many of our products are uncolored.
DEA, MEA, and TEA compounds are potentially harmful, and there's evidence to show they may even be carcinogenic. We never use these toxic compounds as emulsifying agents in our products.
To extend the shelf life of our products, we use only naturally derived ingredients such as Vitamin E. We don't use EDTA – it's an artificial compound, and it's not good for your skin.
Our cleansing ingredients are all-natural and derived from plants. We only use gentle, kind cleansing agents such as Decyl Glucoside, which is biodegradable.
Synthetic preservatives, parabens are commonly found in beauty products – and they're linked to hormone disruption. To keep our products safe, we only use alternative preservatives.
No Petrolatum or Mineral Oils
Petrolatum and some other mineral oils used to moisturize the skin come from unsustainable, non-renewable sources. We choose natural, sustainable plant oils instead, such as Avocado, Cocoa Butter, Jojoba, Rosehip, Sesame, and Shea Butter.
Unlike many companies, we don't use phthalates, an artificial plasticizer, in any of our products.
A potentially toxic compound, Propylene Glycol comes from non-renewable sources, and harvesting it can harm sea and river-based ecosystems. You won't find any Propylene Glycol in our products.
Conditioners shouldn't harm the environment. We believe in sustainable, environmentally friendly beauty, which is why we opt for natural extracts, oils, and plant proteins over silicones.
Since sulphates can cause skin and eye irritation, we use cleansing agents derived from plants in our products instead.
Our products contain no synthetic or artificial fragrances. We only use aromatic essential oils and other natural fragrances.
Triclosan is an anti-microbial agent that may contribute to the development of antibiotic-resistant germs, and it's potentially harmful to the immune system. We don't use triclosan in our products.
General Questions About CBD & Help
BIOS Organics™ is committed to taking their industry-leading research, licensing and quality standards to the next level. Their mission is to be the company setting the gold standard in an industry that is largely unregulated. Consumer trust means everything to them. By exceeding industry standards, the real power of CBD can be recognized and appreciated.
Full spectrum means that an oil or product contains all the cannabinoids that are naturally occurring in the cannabis plant. Our quality full spectrum CBD products are high in CBD, with only trace amounts of minor cannabinoids, and very low in THC (less than 0.3%). Despite these relatively low amounts, the overall composition is considered "full spectrum" and is synonymous with the "entourage effect" – which refers to the increased effectiveness of these products due to the different cannabinoids working synergistically. Full spectrum products are commonly considered more effective than products that are CBD isolate derived. Products that are isolate derived will only contain the isolated CBD molecule normally used to aide in pain relief specifically.
Is BIOS Organics™ Hemp Really Organic?
We grow our hemp using organic farming practices
Cannabinoids are a group of fatty compounds found in hemp but also produced by other plants and the human body. They are the primary chemical compounds produced by the cannabis plant. These compounds are key players in normal immune and central nervous system functioning. There are more than 80 identified cannabinoids.
A system within the human body called the endocannabinoid system (ECS) has receptors that these compounds fit into, using cannabinoids to support cells and healthy immune system function, despite fluctuations in our external environment.
Hemp produces more than 80 different phytocannabinoids naturally. Of the 80+ non-psychoactive phytocannabinoids, Cannabidiol (CBD) is the most widely known. Others include Cannabigerol (CBG), Cannabichromene (CBC) & more.
What Is CBD & How Does It Work?
CBD is short for cannabidiol. It is a mighty phytocannabinoid found in hemp and known for supporting body and mind in many ways.
CBD specifically comes from the flowers and leaves of the hemp plant. (Not to be confused with oil that comes from hemp seeds, which contain no cannabinoids.)
Why it works -The human body has a vast network of receptors, called the endocannabinoid system, which helps us maintain overall wellness and keep many of our physical processes moving in the right direction. CBD fits into the receptors, helping the body complete in its efforts to keep us in good health. Learn more about the endocannabinoids system.
What Is The Entourage Effect?
The Entourage Effect is a phrase coined in 1998 by two Israeli scientists to describe their finding that taking the entire spectrum of natural chemicals found in cannabis is more beneficial than only taking a single molecule compound.
The majority of BIOS products are full spectrum whole-plant extracts that include a variety of phytochemicals. These beneficial compounds include a range of phytocannabinoids, terpenes, and flavonoids.
What Is Cannabidiol (CBD)?
Cannabidiol, or CBD for short, is a non-psychoactive phytocannabinoids. Phytocannabinoids are chemical compounds found in hemp plants. There are over 80 different phytocannabinoids.
Research shows significant potential for phytocannabinoids to support health & wellness. Hemp contains other beneficial phytocannabinoids.
Hemp Oil is the essential oil produced from the leaves, buds, and stem of the hemp plant. Hemp oil can be extracted by both mechanical and chemical means. In the extraction process, the oil retains a range of the phytocannabinoids, terpenes, and flavonoids found naturally in hemp. Oil that comes from only the seeds of hemp—hemp seed oil —does not include all of the same plant compounds and is primarily composed of dietary fats.
BIOS CBD is a whole plant hemp extract with a full spectrum of phytocannabinoids, terpenes, and flavonoids. Phytocannabinoids are phyto-compounds produced by the hemp plant. Cannabinoids work with the mammalian Endocannabinoid System (ECS), which is a vast receptor system to support homeostasis and health. It exists in the immune system, many organs, and the central nervous system. The ECS accepts our bodies' internal endocannabinoids as well as the phytocannabinoids found in hemp.
Hemp oil is legal and can be shipped to all 50 states.
Do Your Products Contain THC?
Our full spectrum products contain no more than the legal limit of <0.3% THC. Our patented Pain Tablets are made with Isolate CBD which contains 0% THC.
Can I take BIOS Products With Prescription Medications?
As with any dietary supplement, we recommend consulting your physician prior to adding BIOS products to your daily routine.
What Is The BIOS Organics™ Ethical Cannabidiol Standards (ECBDS)
The CBD industry's alive, well & thriving albeit rapidly growing without any real form of control of standards for the oil produced & being on sold to consumers. The intent of ECBDS is to provide the end consumers with confidence about the purity and the integrity of the product they are intending to consumer or topically apply. Essentially, it's a way to take the uncertainty out of making a CBD purchase and to cut through the old wives' tales, urban myths and if course, avoid the cowboys.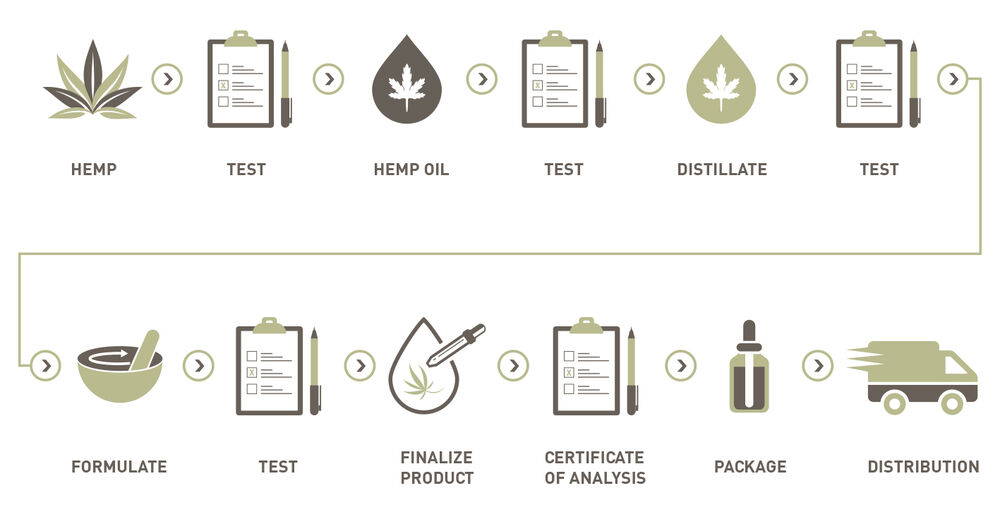 The Core Principles Of ECBDS
LICENSING

Is the farm where it was grown licensed?
Is the facility it was extracted from licensed?
Is the Brand licensed?
ORGANIC
Is the product grown using organic farming practices?
Does the product have certified organic ingredients?
3RD PARTY TESTING
Each production batch is to undergo 3rd Party Lab testing and analysis. Results are published to the website for any interested consumers to review.
LABELING STANDARDS
Transparency and full information of all ingredients in the final product must be displayed
Any organic products must be clearly identified
The source of the CBD's origins is clear, trackable, and single sourced.
The CBD MG must be clearly listed on the front of the bottle.
Type of CBD must be clearly listed (full spectrum, broad spectrum, isolate).
Ethical Commitments & FAQs
Purity of the CBD can be compromised when sourcing is not disclosed. Some CBD is a blend of CBD from more than one supplier, distributor or producer. Single-sourced verified CBD provides transparency of its origin and can be tracked back to one farm and the year of harvest. BIOS Organics™ CBD is verified as single-sourced.
This standard has been established to help consumers take the guess work out for buying CBD, in partnership with well-respected certifications including USDA Organics, Leaping Bunny and EWG. Buy with confidence knowing BIOS Organics™ meets all the standards outlined here.
Good Manufacturing Practices
GMP covers all aspects of production, from the starting materials, premises and equipment, to the training and personal hygiene of staff. Detailed written procedures are essential for each process that could affect the quality of the finished product. When purchasing CBD, we recommend buying from companies that produce their products in GMP certified facilities such as BIOS Organics™
The EWG VERIFIED™ mark does the work for you. When you see the EWG VERIFIED™ mark on a product, you can be sure it's free from EWG's chemicals of concern and meets their strictest standards for your health. As part of our commitment to stand for clean and ethical beauty, we have partnered with Environmental Working Group (EWG), the leading third-party ingredients safety certification for beauty and personal care goods.
We believe everyone should benefit from the natural healing properties of CBD in the form of skincare and wellness. ALL BIOS Organics™ products are natural, affordable, and safe for people around the world.
If you want to support brands that don't test on animals, ensure it carries certification. A lot of leading brands make false claims. If they're sold in mainland China, they test on animals. Leaping Bunny is a strict governing body that ensures companies are 100% cruelty free. Leaping Bunny's audit process is thorough, which entails a full ingredients audit including sourcing and the countries they sell in.
A beauty or wellness product is vegan if it doesn't contain any animal by-products or ingredients sourced from animals. Common non-vegan ingredients found in products include beeswax, lanolin, honey, and tallow. We harness the power of plant, following strict organic farming practices.
USA Organic Farming Practices
Some companies claim to be USA made but the farms they source their ingredients from are located in countries with relaxed and less-regulated legislation. When it comes to CBD products, to ensure purity and authenticity, ECBDS recommends you chose a CBD company that overseas all areas of their production in the USA. This includes harvesting, extraction, manufacturing, and distribution. BIOS Organics™ is 100% USA made and is compliant with USA Organic Farming Practices.
Buy1Give1 is a non for profit organization that is aligned with the UN Sustainable Development Goals (SDGs), also known as the Global Goals, adopted by all United Nations Member States in 2015 as a universal call to action to end poverty, protect the planet and ensure that all people enjoy peace and prosperity by 2030.
The 17 SDGs are integrated—that is, they recognize that action in one area will affect outcomes in others, and that development must balance social, economic and environmental sustainability.
Through the pledge to Leave No One Behind, countries have committed to fast-track progress for those furthest behind first. That is why the SDGs are designed to bring the world to several life-changing 'zeros', including zero poverty, hunger, AIDS and discrimination against women and girls.
BIOS Organics is the first CBD company to have entrenched B1G1 giving as a COGs. BIOS Organics™ is committed to profit and purpose and track all their impacts through their partnership with Ethical Beauty. As a result, with every purchase of their products, you will be helping the UN towards their 2030 goals.
The purchasing power of woman alone can change the world and it starts with the beauty and wellness sector which we support. ECBDS stands for equity, parity and equity. This includes acknowledgement and setting 50% percentage ownership by woman in the sector, BIOS Organics™ is predominately female-founded and owned, setting positive new standards in not only the CBD industry, but the beauty sector.
The beauty industry is a major contributor to landfill. Recycled material alone is not enough and does not make a company compliant. Committing to zero waste requires companies to meet strict biodegradable, reusable and recycled measures. BIOS Organics™ is committed to zero waste. their sustainability measures make them the #1 Zero Waste CBD company in the world.